Tzedek Awards
The JCRC Tzedek Awards Ceremony is a yearly event that brings together the Jewish, intergroup, and interfaith communities in St. Louis to celebrate our ongoing relationships.  Ten outstanding community members whose work embodies the mission of the JCRC and strengthens the region as a whole were recognized at this year's ceremony.  
Award Honorees 2023
Dr. Arlene & Rabbi Jeffrey Stiffman, Batya Abramson-Goldstein Legacy Award
Marie Kenyon, Norman A. Stack Community Relations Award
Nancy Solomon Desloge, Michael and Barbara Newmark Emerging Leader Award
Donn Rubin, Joel and Joanne Iskiwitch Israel Award
Michael and Barbara Newmark Institute for Human Relations Pluralism Awards:
The Reverend Mike Angell
Caroline Fan
Reverend Gabrielle NS Kennedy
Ram Lakshmanan
Guillermo A. Rodriguez
Click each image below to view the honoree videos.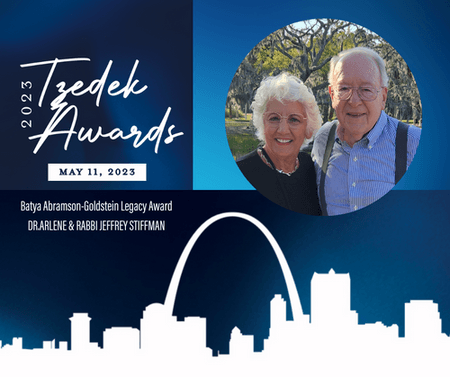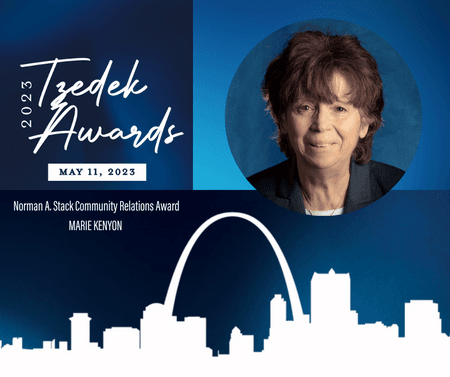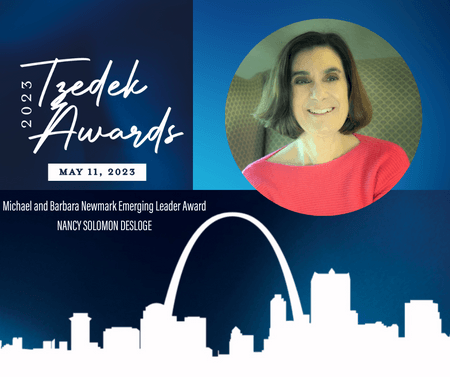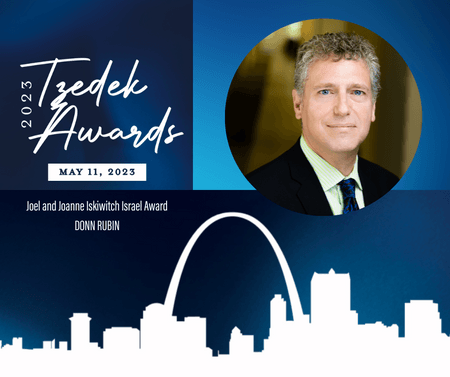 WE ARE GRATEFUL FOR OUR 2023 TZEDEK SPONSORS
WE ARE GRATEFUL TO OUR SPONSORS:
Gallery - Enjoy Our Favorite Moments From Last Year's Event
---
Batya Abramson-Goldstein Legacy Award
Batya Abramson-Goldstein has devoted her professional life to community relations and strengthening relationships between the Jewish community and the broader St. Louis community, earning the personal respect and admiration of so many along the way. During her 26-year tenure with the Jewish Community Relations Council, the last 12 years serving as the Executive Director, Abramson-Goldstein developed innovative programming to foster a broad awareness of our shared humanity and inspire a passion for the pursuit of social justice.
The purpose of the Batya Abramson-Goldstein Legacy Award is to recognize those whose exceptional leadership and vision have had an enduring impact on the JCRC and its community relations mission.
Past Recipients (2019-2022):
---
Norman A. Stack Community Relations Award 2021
The Norman A. Stack Community Relations Award was established in the memory of past JCRC Executive Director Norman Stack. It honors a leader in the community who has worked tirelessly in intergroup understanding, interfaith relations, and social justice work. 
Past Recipients (1989-2022):
O'Ray Graber *
Dean Michael Allen *
Margaret Sonnenday *
Reverend Rudy Pulido 
James Buford *
Reverend William Chapman *
Ronald L. Jackson 
Harry James Cargas *
Gregory Freeman *
Reverend Paul C. Reinert; S.J. *
Father Vincent A. Heier 
Dr. Waheed Rana *
Anna Crosslin 
Rev. Dr. Martin Rafanan 
Frankie Freeman *
Charles Brennan 
Chris Chadwick 
Reverend Dr. David Greenhaw  
Reverend Dr. Michael Kinnamon 
Dr. Robert Archibald 
Dr. Dennis Golden 
Rev. Dr. Paul T. Reiter 
Ghazala Hayat; MD 
Father Richard A. Peddicord; O.P 
Sr. Carla Mae Streeter; O.P 
Timothy O'Leary 
Elizabeth (Beth) J. Stroble
Paul Reuter
Fr. Paul Stark; S.J.*
Jorge Riopedre
Michael P. McMillan
F. Javier Orozco, OFS, PHD 
* of blessed memory
---
Michael & Barbara Newmark Emerging Leader Award
The Emerging Leaders award seeks to inspire emerging leaders to be more active in their roles within the JCRC. The purpose of the award is to fund the recipient's attendance at a national meeting so they can be exposed to the same type of training as the award's sponsors. 
Past Recipients (1989-2022):
Philip Deitch
Denise Field
Donn Rubin
Josh Avigad
Gerry Greiman
Anna Ginsberg
Susan Mlynarczyk
Dr. Andrew Rehfeld
John Kalishman
Phyllis Markus
Brad Kafka
Steve Malter
Hilary Cedergreen
Les Sterman
Jeffrey Sparks
Deborah Price
---
Milton I. and Marle K. Goldstein Scholarship
Each year, the Milton I. and Merle K. Goldstein Scholarship Fund provides a partial college scholarship to a graduating senior who demonstrates significant need and outstanding achievement at Soldan International Studies High School, the much-valued alma mater of both Milton and Merle Goldstein. It is administered by Jewish Community Relations Council (JCRC). Milton Goldstein was President of the JCRC and a national officer on the board of its national organization. This year's awardee is Anissa Smith.
---
Special Tribute
Past Recipient (2022)