How to Make a Plan to Vote Absentee
Make a plan for voting. If you plan to vote absentee - you can request your absentee ballots now. There are two easy ways to do this - vote.org and movote.org.  Both websites will partially complete the form for you.  The MOVote.org site, developed by Missouri-based Show Me Integrity- has an added bonus.  You can sign the form on-line and email it directly to the St. Louis City or St. Louis County Election Authority.  No printing, no stamps, no mail.  We highly recommend this method. Selecting absentee voting rather than a mail-in ballot provides more options to securely deliver your ballot.

Another great option - Voting Absentee in Person.  In addition to going to your election authority headquarters,  St. Louis County is offering four satellite locations at various County facilities and St. Louis City is offering satellite location in four St. Louis Public Library branches.  At these satellite locations, you can vote absentee in person and also drop off your absentee ballots. Requests for Absentee Ballots must be received October 21 at 5:00 p.m.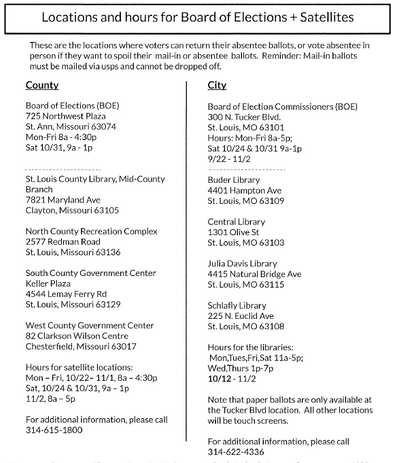 Where to Get your Ballot Notarized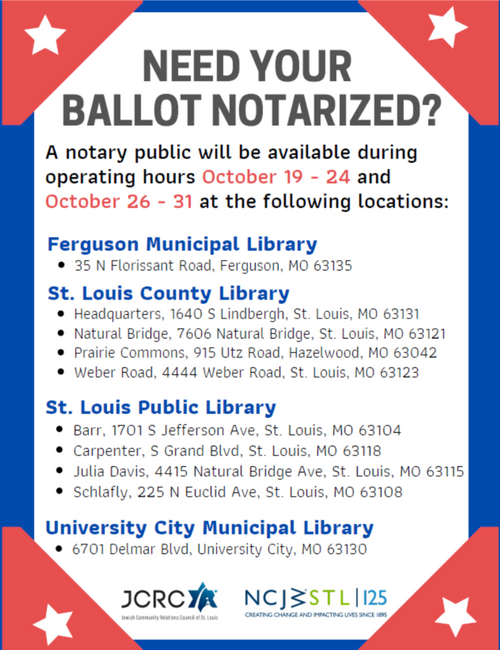 Clergy Call for Absentee Voting