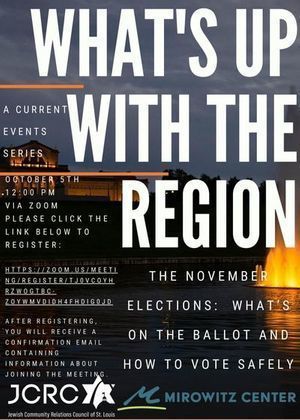 What's Up with the Region (October 2020): The November Elections: What's on the Ballot and How to Vote Safely.
Hear from experts about Missouri Constitutional Amendments 1 and 3, and St. Louis City Ballot issues D (voting) and R (early childhood education).
---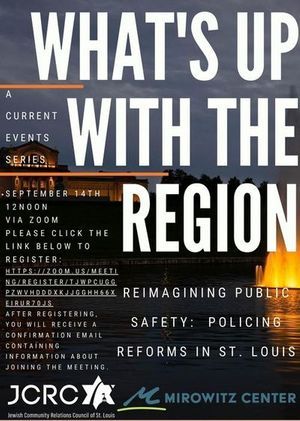 What's Up with the Region (September 2020): Reimagining Public Safety: Policing Reforms in St. Louis
Hosted by the Mirowitz Center. Join JCRC and the Mirowitz Center for a discussion of which Policing Reforms are necessary in the St. Louis region and which are currently taking place.
---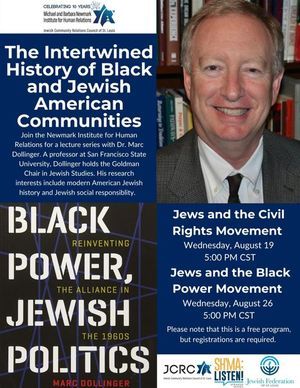 The Intertwined History of Black and Jewish American Communities 
Join the Newmark Institute for Human Relations at the JCRC for a lecture series with Dr. Marc Dollinger. A professor at San Francisco State University, Dollinger holds the Goldman Chair in Jewish Studies. His research interests include modern. American Jewish history and social responsibility. 
Click HERE to view the recording of the August 19 lecture on Jews and the Civil Rights Movement. 
Click HERE to view the recording of the August 26 lecture on Jews and the Black Power Movement. 
---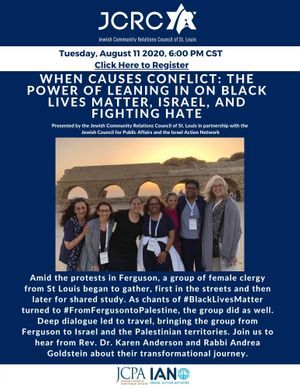 When Causes Conflict: The Power of Leaning in on Black Lives Matter, Israel, and Fighting Hate (Click the flyer above for recording link)
Amid the protests in Ferguson, a group of female clergy from St. Louis began to gather, first in the streets and then later for shared study. As Changs of #blackLivesMatter turned from #FromFergustontoPalestine, the group did as well. Deep dialogue led to travel, bringing the group from Ferguson to Israel and the Palestinian Territories. Join us to hear from Rev. Dr. Karen Anderson, Rabbi Andrea Goldstein, and Maharat Rori Picker Neiss about their transformational journey. 
---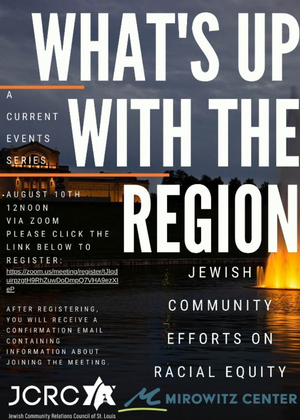 What's Up With the Region (August 2020): Jewish Community Efforts on Racial Equity
Hosted by the Mirowitz Center. Speakers included: Rabbi Randy Fleisher of Central Reform Congregation who discussed CRC's weekly videos featuring Jews of Color , Liessa Alperin, Director of Innovative Learning and Engagement, Congregation B'na Amoona, who discussed the congregations Anti-Bias Anti Racism training program, Ellie Des Prez, Congregation Shaare Emeth, who discussed the congregation's racial equity film series, Nancy Litz, VP Leadership for NCJW St Louis who discussed the racial justice focus of many of NCJW's projects as well as their racial justice book club, and Karen Aroesty, Executive Director of ADL-Heartland, who discussed the ADL's training programs for police officers in conjunction with the Holocaust Museum and Learning Center as well as an effort to update the state of Missouri's Racial Profiling statue. The program concluded with Cheryl Adelstein and Alyssa Banford, JCRC discussing the efforts to do by the Jewish Coalition on Racial Equity and announcing a Virtual Racial Equity Conference, planned for October-November 2020. 
---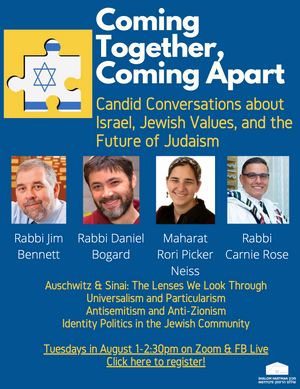 Coming Together, Coming Apart: Candid Conversations on Israel, Jewish Values, and the Future of Judaism 
Speakers include Rabbi Jim Bennett, Rabbi Carnie Rose, Rabbi Daniel Bogard, and Maharat Rori Picker-Neiss. 
If you would like to view any of the sessions, you can access them here: 
---