2020 Virtual Jewish Conference on Racial Equity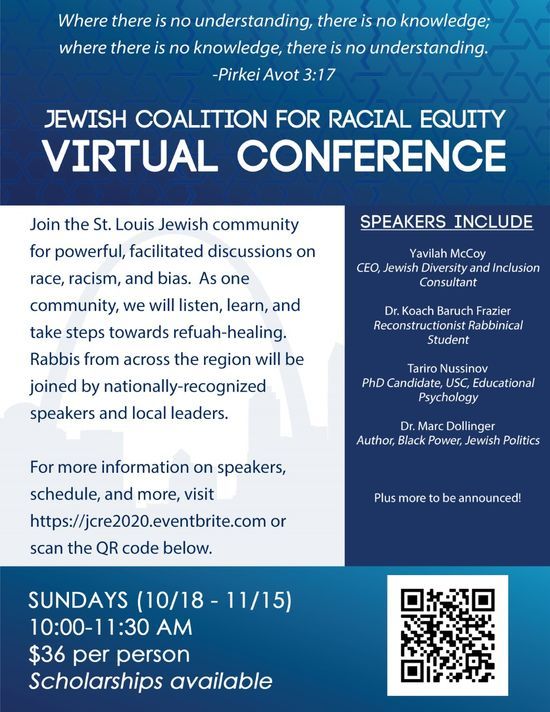 Join the St. Louis Jewish community for powerful, facilitated discussions on race, racism, and bias. As one community, we will listen, learn, and take steps towards refuah-healing. Rabbis from across the region will be joined by nationally-recognized speakers and local leaders.
Conference sessions will take place on Sundays from 10:00-11:30 AM CDT on October 18th, October 25th, November 1st, November 8th, and November 15th.
The sessions will be recorded and available if you are unable to join the conversation live. 
All participants will receive a package in the mail containing interactive conference materials.
Speakers Will Include:
Yavilah McCoy - CEO, Dimensions - Jewish Diversity and Inclusion Consulting Group
Dr. Koach Baruch Frazier - Reconstructionist Rabbinical Student, Activist
Tariro Nussinov - PhD Candidate, USC, Educational Psychology
Dr. Marc Dollinger - Author, Black Power, Jewish Politics
Shahanna McKinney-Baldon - Director, Edot Midwest Regional Jewish Diversity Collaborative
Conference Sponsors
ADL Heartland
AJC
B'nai Amoona Congregation
Central Reform Congregation
Congregation Shaare Emeth
Congregation Temple Israel
Crown Center for Senior Living
Cultural Leadership
Edot: The Midwest Regional Jewish Diversity Collaborative
Holocaust Museum and Learning Center
Jewish Community Relations Council of St. Louis
Jewish Federation of St. Louis
Kol Rinah
MaTovu
National Council of Jewish Women - St. Louis
NextDor
Nishmah
Shir Hadash Reconstructionist
United Hebrew Congregation
Washington University Hillel
With Immense Thanks to Our Planning Committee
Tony Westbrook, Chair
Patty Croughan
Barbara Hoffman
Felice Joyce
Nancy Litz
Nancy Lisker
Monique Parasam-Levy
Al Rose
Susan Roth
Karen Sher
Rabbi Lane Steinger