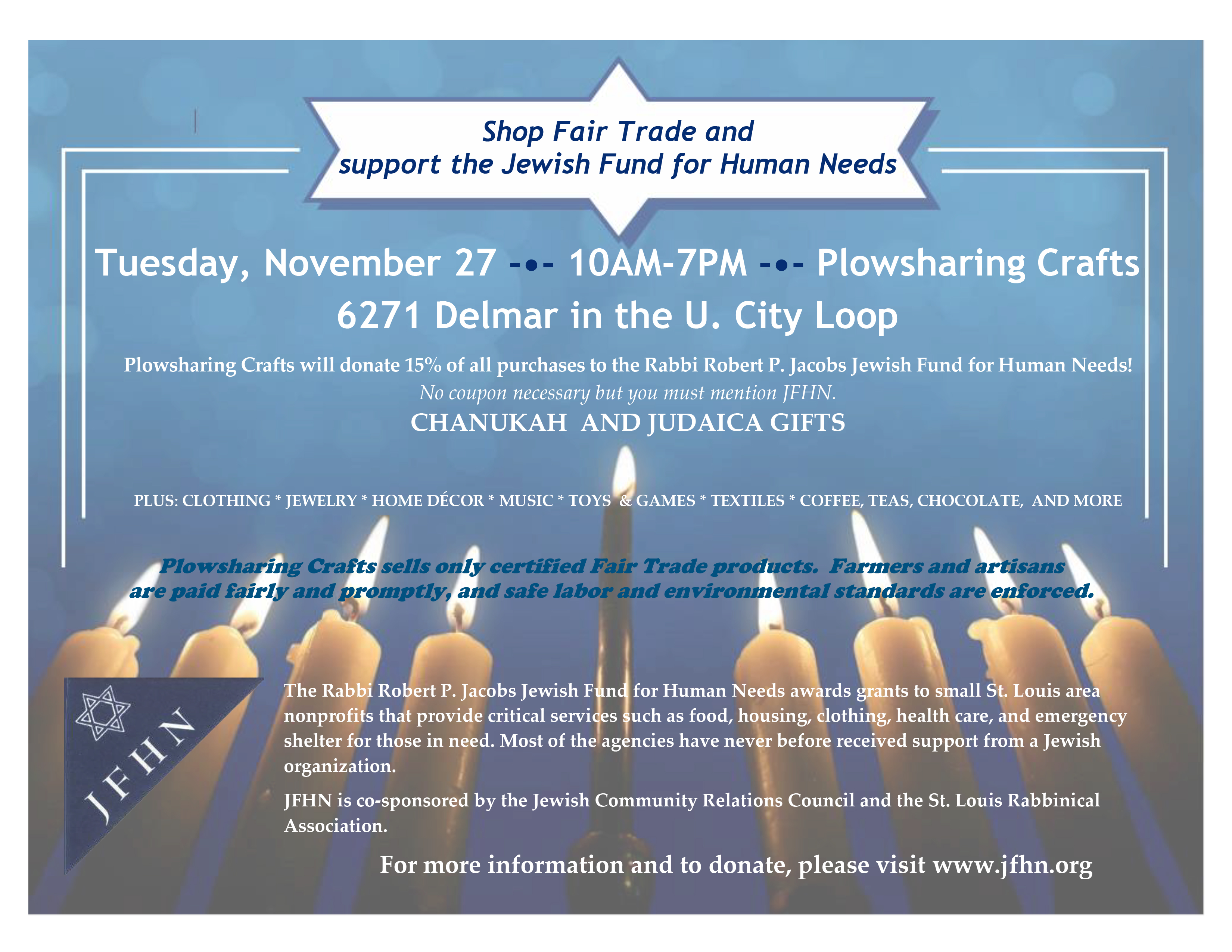 The Jewish Fund for Human Needs (JFHN) works to fulfill the mitzvah of tzedakah (the obligation to do righteous acts) by awarding small grants to non-Jewish social services agencies helping those in need throughout the St. Louis region. An Allocations Committee made up of representatives of a cross-section of the Jewish community determines which agencies shall be funded. There are two funding cycles per year. Through these grants, JFHN helps to support small St. Louis area non-profits that are providing direct services to those in need of food, housing, health care, education, employment, and other essential human needs. The Chair is Rabbi Brigitte Rosenberg of United Hebrew Congregation.
JFHN is a joint project of the JCRC and the St. Louis Rabbinical Association with support from the Jewish Federation of St. Louis and the Lubin-Green Foundation. By contributing to the JFHN, you are participating in our age-old tradition of tikkun-olam, repairing of the world.
Jewish Fund Updates
October, 2018
The Rabbi Robert P. Jacobs Jewish Fund for Human Needs (JFHN) is now accepting applications for volunteers to serve on its allocation committee for a three-year term beginning in 2019.
JFHN is co-sponsored by the Jewish Community Relations Council (JCRC) and the St. Louis Rabbinical Association (SLRA) with support from the Lubin-Green Foundation, a supporting foundation of the Jewish Federation of St. Louis. The Fund awards grants to small and medium-sized non-profit direct service organizations in the St. Louis region that respond to basic human needs, such as by providing health care for the uninsured, food for the hungry, housing for the homeless, assistance to refugees, and emergency shelter for victims of abuse. 
The JFHN Allocations Committee includes representatives from the JCRC, SLRA, and Jewish Federation, and also at-large members. The Committee reflects a diverse cross section of the Jewish community.
JFHN has two funding cycles a year. In each cycle, allocation committee members discuss possible applicants, review grant applications that are received, participate in site visits to first-time applicants, and help decide the awarding of grants. Most JFHN site visits and allocation committee meetings are held on weekdays in the mornings or late afternoons.
Those who have served on the Jewish Fund for Human Needs Allocation Committee find it an extremely meaningful and rewarding volunteer experience. Committee members get first-hand insight into many wonderful but often unsung social service organizations in our region. For most of these organizations, JFHN is the first support they have received from the Jewish community.  The Fund strengthens interfaith relations while truly making a difference in the lives of those in need. 
To find out more about applying for a position on the JFHN Allocation Committee and to request an application, please contact Steve Sorkin at 314-442-3873 or ssorkin@jcrcstl.org. The application deadline is November 30, 2018.

Jewish Fund for Human Needs Allocations Committee
Chair
Rabbi Brigitte Rosenberg
JCRC Members
Jackie Gerson 
Sue Picus
Howard A. Rader
Amy Scharff
Lilly Scharff
Warren Gary Sherman, M.D.
Rabbinical Association Members
Rabbi Randy Fleisher
Rabbi Andrea Goldstein
Rabbi Elizabeth Hersh
Rabbi Dale Schreiber
Jewish Federation Members
Carolyn Morris
Julie Stern 
At-large Members
Lynn Freedman
Judy Sadoff
Gayle Shank
Stanford Shanker
Robert Stein
Karen Yoffie
Ex-Officio
John Kalishman, Chair, JCRC
Rabbi Noah Arnow,  President, St. Louis Rabbinical Association
Rori Picker Neiss,  Executive Director, JCRC
Staff
Steve Sorkin, JCRC-SLRA Associate
Apply to Be a Member of the  Allocations Committee
New members of the Fund Allocations Committee are welcomed each year in January.
Applications for openings for At-Large members are available beginning the previous fall and can be obtained by contacting JCRC at 314.442.3871 or jcrcstl@jcrcstl.org.
 
Recent Agencies Funded
Spring 2018
Fall 2017
Spring 2016
Fall 2015