Muslim / Jewish Dialogue Group
This group is for Muslim and Jewish adults giving a non-threatening forum for each group to explore their differences and similarities. Social justice, diversity and peace are some of the issues that are explored.
Muslim / Jewish Teen Dialogue Groups
Muslim and Jewish Teens begin to learn early in life about each other's cultures.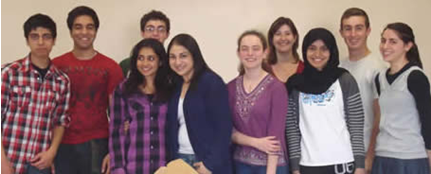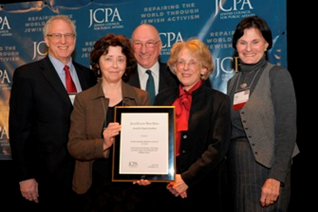 The Sidney and Anna Frager Jewish/Muslim Teen Dialogue Group is the recipient of the Jewish Council of Public Affairs (JCPA) 2011 Program of Excellence Award.
Flowing from its mission of promoting a "just, democratic, and pluralistic society", the St Louis Jewish Community Relations Council (JCRC)in 2006 initiated anew program directed towards opening lines of ongoing contact and communication between teens in the Muslim and Jewish communities.
Herbert and Marcia Marks, provided the start-up funds for the program, to be named in memory of Marcia's late parents, Sidney and Anna Frager. Their vision and support made the program possible.
Leadership of the JCRC and of the Islamic Foundation of St. Louis worked together to developthis program of ongoing contact between teens of the Muslim and the Jewish community. Both communities saw this as a potentially transformational program. It has proven to be that...and, more.
The Sidney and Anna Frager Jewish/Muslim Teen Dialogue group (fondly dubbed by its participants as "JAM: Jews and Muslims) has developed into a deeply rooted collaboration between the St. Louis JCRC and the Islamic Foundation of St. Louis. This program is building bridges of understanding between the two communities. The program is administered by the JCRC, through the Barbara and Michael Newmark Institute for Human Relations.
Participants: 12 Jewish teens and 12 Muslim teens.  The group reflects considerable diversity:  Muslim participants have had Pakistani, Indian, Iranian, Bosnian, and Egyptian roots; Jewish participants represent the Reform, Conservative, and Orthodox branches.                 
The group's goals are:
To engage Jewish and Muslim teens in a meaningful interaction.
To increase understanding of each other's religion, values, and culture.
To engage Jewish and Muslim teens in a dialogue regarding their faith, culture, and values.
To reduce prejudices among Jewish and Muslim teens through finding a common ground and learning about each other through personal encounters.
To develop tomorrow's leadership that will have a greater understanding of each other's community and that will have the skills to dialogue and collaborate.
To increase communication, understanding, and collaboration between the Muslim and the Jewish communities of St. Louis.