Support for Israel, Call to Action, and Resources
Below you will find resources and ways to support Israel during this devastating time following the horrific attacks launched by terrorist organization Hamas on October 7 and the ensuing war that followed. As the war continues to unfold, we will update this page. 
Opportunities to Give
Call to Action
MONTHLY ISRAEL WEBINAR - HaKol Koreh: Everything Happening in Israel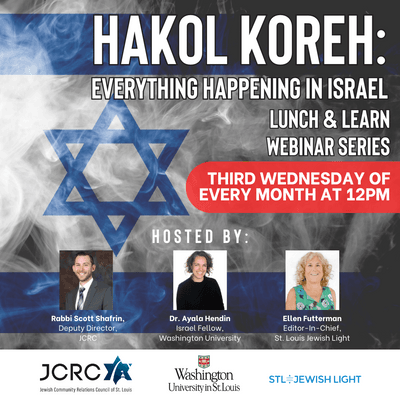 Join our webinar hosts, Rabbi Scott Shafrin, JCRC Deputy Director, Dr. Ayala Hendin, Israel Fellow at Washington University, and Ellen Futterman, Editor-In-Chief of the St. Louis Jewish Light for the latest update on Operation Iron Swords and to explore other timely and relevant news stories coming out of Israel.
This ongoing webinar meets the third Wednesday of each month on Zoom. Click the button below to register. 
Resources & Information to Know
Updated as of 12/1, 3:00 pm
JCRC Communications